HONK KONG
architect: Trent Tesch
Mixe used , MEX
architect: Trent Tesch
55 HUDSON YARD NYC
architect: KPF
project manager Trent Tesch
http://therealdeal.com/blog/2014/11/18/related-could-pay-further-180m-for-right-to-build-55-hudson-yards-skyscraper/
Mixe used , NYC
architect: Trent Tesch
WOOD WHARF London
architect KPF
Located at Wood Wharf, in a park setting along the water's edge, this free-standing tower include 469 apartments and almost 20,000 square feet of amenity space and ground floor retail.
Penthouses are located at the upper floors while free form podium levels host large roof gardens at the base. Across from a public square, the building offers a dynamic contribution at the street level. With no corners, the building frontage wraps around to reveal public plazas and gardens, which form part of a linear park that stretches along the dock.
Mixe Used MEXICO CITY
architecte KPF
ONE VANDERBILT,New-York
architect: KPF
The New York City Council voted on Wednesday to approve plans for a developer to build a 63-story office tower just west of Grand Central Terminal in exchange for $220 million in transit upgrades. Plans for the skyscraper, called One Vanderbilt, have been at the center oflong-running negotiations to improve the bustling subway station at Grand Central, particularly on the overcrowded 4, 5 and 6 trains on the Lexington Avenue subway line .../...
HUDSON YARD , New-York
PENTHOUSE \OFFICE
ONE VANDERBILT : New 65 story tower near Grand Central to stand taller than the Chrysler Building.
It looks like the Chrysler Building is about to get a new neighbor. According to the New York Times, SL Green has reportedly proposed the development of a 1,200-foot, 65-story tower that would occupy the block between 42nd and 43rd Streets, and Vanderbilt and Madison Avenues. This proposal will have to undergo a review process as part of a new de Blasio administration plan to rezone an area of Vanderbilt Avenue for larger buildings.
images here
http://ny.curbed.com/archives/2014/09/18/new_renderings_revealed_for_megatower_one_vanderbilt.php
http://newyorkyimby.com/2014/06/new-details-released-for-one-vanderbilt.html
architect: KPF , nyc
HUDSON YARDS
architecte: kpf
The design of Fifty Five Hudson Yards is defined by its indoor-outdoor spaces, SoHo and early modernism inspired exterior design, and exceptionally efficient interior space planning. The conceptual design of the building was a joint venture of A. Eugene Kohn of Kohn Pedersen Fox (KPF) and Pritzker Prize-winning architect Kevin Roche; KPF served as the Design Architect.
One of the few office buildings in the entire city opening directly onto a park, the main lobby of Fifty Five Hudson Yards sits at the southwestern edge of the City's new Hudson Park. With a unique buffer of green space, light and air around the building, Fifty Five Hudson Yards offers a welcoming arrival experience for building tenants and visitors. The architects built on the appeal of this great outdoor space by designing a dramatic outdoor terrace overlooking the park on the building's tenth floor.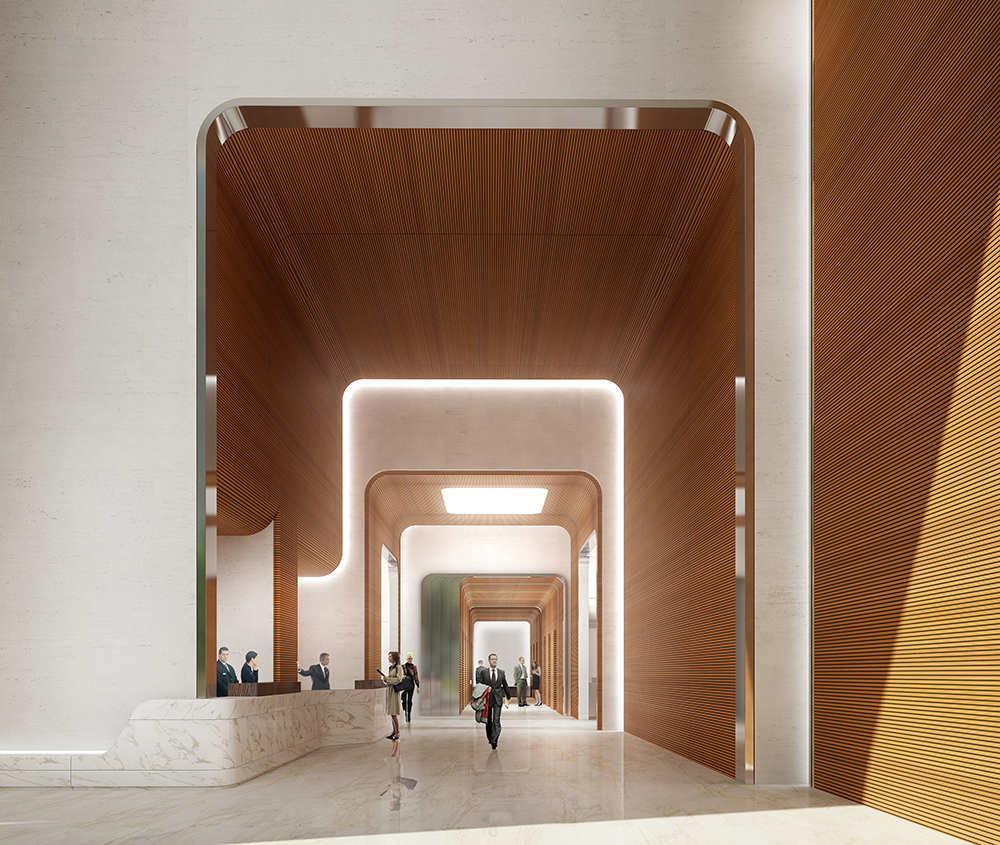 CANARY WHARF , LONDON
architect: KPF
SOMA SAN FRANCISCO
architect: KPF New-York
HUDSON YARD NYC
architect: Alloy
TOKYO
architect: FxFowles
OFFICE & MUSEUM , GUINEA
architect : Enia
PENN STATION, NEW YORK
architect: Som
HUDSON YARDS , NEW YORK
architect: Alloy
SANGAM SEOUL
architect: Som
SOM led the design and engineering team as part of Daewoo E&C Consortium's successful developer bid for the DMC landmark tower in the Sangam area of Seoul.
Tower hight: 64o meters.
HUDSON YARD NYC
architect: Aro
SAN FRANCISCO
architect: Kpf, nyc
MIXE USED DEVELOPMENT RIYADH SAUDI ARABIA
architect: FxFowle
FXFOWLE was one of two finalists in a design competition for a mixed–use development in Riyadh. The design drew inspiration from the shape of Al Khozama, a flower unique to the Saudi Arabian Kingdom. The key program elements included a 450-room five-star hotel, a mosque, commercial office space, retail and restaurant venues, parking, and several indoor and outdoor public spaces. Set within the complex's courtyard and surrounded by a pool, the mosque was designed as a simple geometric form. Its exterior enclosure, made of alabaster engraved with Islamic patterns, diffused daylight to the interior, and at night, the mosque glowed like a jewel.
INDIA TOWER
architect: FxFowle